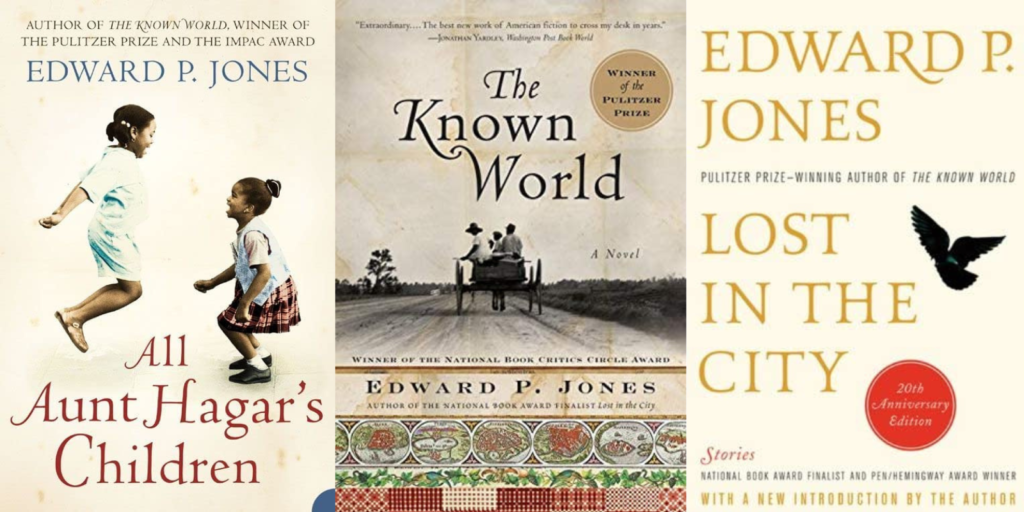 Hi friends,
We hope you are having a healthy and restful holiday season. This week, we thought we'd share this appreciation from a Friend of Ursa, writer Stanley Stocker, on the work of writer Edward P. Jones.
And thank you, everyone, who participated in the Ursa Listener Survey! It's been gratifying to read all your kind words, and also about how we can continue to improve the show and our offerings. More to come soon.
-Dawnie, Deesha, and Mark
***
One of the qualities that the acclaimed writer Zadie Smith prizes in fiction is the ability to render what life is like and how we experience time. "When you talk about Virginia Woolf or experimental writers, to me," she once said, "all they're trying to do is get closer to what time actually feels like, what it actually feels like to be alive … it's realism to me."
Much has been written about the African-American writer Edward P. Jones. He was awarded the Pulitzer Prize in 2004 for his novel The Known World, a MacArthur Fellowship (2004), and the PEN/Malamud Award for excellence in the art of the short story (2010). It's been noted that his first story collection, Lost in the City (1992), took inspiration from James Joyce's Dubliners in that Jones set out to depict Black Washington in all its richness and again in his collection All Aunt Hagar's Children (2006).
However, what I love most in Jones's fiction is not the setting, but that same quality that Smith admires: the ability to render as truly and intimately as possible how people, in this case Black Washingtonians, navigate moments in time and place.
Here is Jones in "All Aunt Hagar's Children" from the collection of the same name, depicting a main character sitting with his mother and pregnant sister-in-law during a tense dinner:
"I sat back in my chair with my Kool-Aid. They went on talking like that, my mother and my sister-in-law and her twin girls just dying to come out. There is a moment that a man hungers for when he's boozing – the conductor has already escorted him to the best seat on the train. This happens somewhere, depending on the alcohol, along about the fifth sip. The view from the window is extraordinary; God knew his business that day. A woman sits across from him and only when he looks out the window does she look away. Otherwise, her eyes are always on him…. He takes another sip, and emphatic waves of warmth come over him. The woman crosses her legs. She is not wearing old-lady stockings. Hers are sheer nylon, so the man can bear witness to the miracle of her legs. He raises his glass and tries to decide whether to look again at her legs or out the window at what God made just for him."
This is Jones's depiction of a character seeking relief and in imagining such relief, finding it, if only for a time.
Many of the same characters "wander" through both story collections. It is the centrality of the imagination* that shines forth in Jones's characters as they make their way through the streets of a city peopled with the living and the ghosts of the dead and where, as William Faulkner said, the past is never dead and isn't even the past. And it is Jones's imagination that shows us what it's variously like to be alive in that city.
***
*It's interesting to note that, like Beethoven ("I carry my ideas about with me for a long time, often for a very long time, before I write them down"), Jones composes much of his work in his head before he writes it down. As he told The Paris Review in 2013:
"So over ten years, while I kept avoiding doing research, the creative part of my brain worked away, which I'm sure is why I could sit down in the final days of December of 2002, start writing, and have a first draft [of The Known World] in March."
Edward P. Jones Reading List:
***

Stanley Stocker's fiction has appeared in Kestrel, Middle House Review, Susurrus, and is forthcoming in Brittle Paper. His story "The List" which appeared in Kestrel was awarded a 2021 PEN America/Robert J. Dau Short Story Prize and his story "Contrition" was a finalist for the 2022 Best Spiritual Literature Award — Fiction. His work has been nominated for a Pushcart Prize and Best of the Net.
Share Ursa with a Friend
Did you know? In addition to Apple Podcasts and Spotify, you can also follow us on Instagram, TikTok, and (coming soon) YouTube.