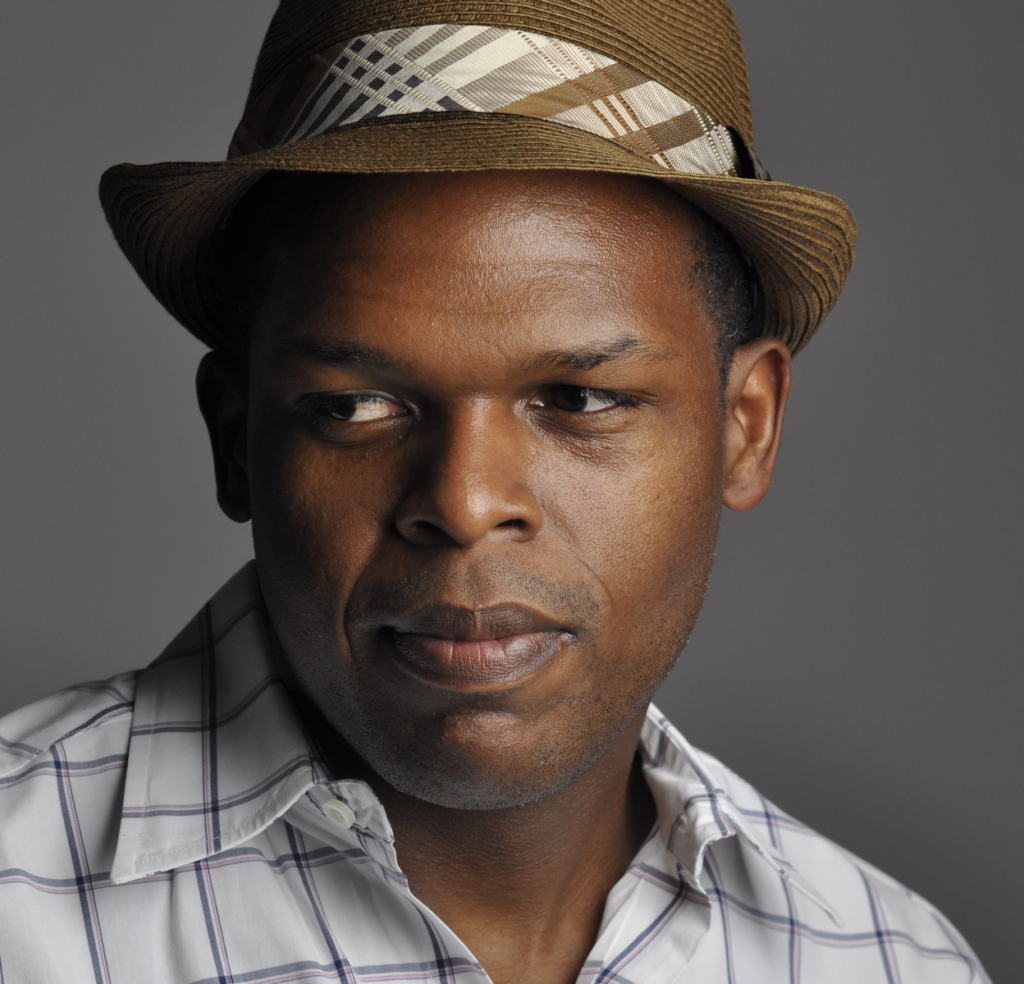 On Episode 12 of the Ursa Short Fiction podcast, co-hosts Deesha Philyaw and Dawnie Walton are joined by Maurice Carlos Ruffin, author of the short story collection The Ones Who Don't Say They Love You. That acclaimed 2021 book includes "Ghetto University," the story we featured previously on the show.
Ruffin talks about the inspiration he takes from his native New Orleans, and his journey from a "three-piece suit-wearing, BMW-driving lawyer" to putting all of his energy into becoming a writer and telling the stories he was meant to tell.
About the Author
Maurice Carlos Ruffin is the author of The Ones Who Don't Say They Love You, a New York Times Editor's Choice that was also longlisted for the Story Prize. His first book, We Cast a Shadow, was a finalist for the PEN/Faulkner Award, the Dayton Literary Peace Prize, and the PEN America Open Book Prize. Ruffin is the winner of several literary prizes, including the Iowa Review Award in fiction. A New Orleans native, Ruffin is a professor of Creative Writing at Louisiana State University, and the 2020-2021 John and Renee Grisham Writer-in-Residence at the University of Mississippi.
Episode Links and Reading List:
More from Deesha Philyaw and Dawnie Walton:
Support Future Episodes of Ursa Short Fiction
Become a Member at ursastory.com/join.
Transcript
Maurice Ruffin: The vast majority of us are conscientious enough and intelligent enough to do different kinds of work. But for a certain part of the population, this is like a little bell ringing in the back of your head. You don't even know what that bell really means, but that bell is your artistic bell.
[Music Break]
Deesha Philyaw: Hey, Dawnie.
Dawnie Walton: Deesha.
Deesha Philyaw: I'm so excited about today's show. I love Maurice Ruffin.
Dawnie Walton:I know.
Deesha Philyaw: I'm just a fan.
Dawnie Walton: I mean, who isn't? Whenever you need a little burst of "keep going" energy on whatever you're writing, you can just find Maurice on the internet, on Twitter, just dropping random gems. And then besides that, he writes books that are full of such beautiful characters, such beautiful writing, such strong voices. We're so excited to talk to him today.
[Music Break]
Deesha Philyaw: Welcome to the Ursa Podcast, where we celebrate the best in short fiction. You can support the show, including author interviews and original audio stories, by going to www.ursastory.com/join, or by leaving a review and comment on Apple Podcasts. I'm Deesha Philyaw.
Dawnie Walton: I'm Dawnie Walton, and we are delighted to be joined today by Maurice Carlos Ruffin. Now, if you've been listening to this podcast, you know who Maurice is — the people know Maurice. But just in case you need a reminder, he is the author of two books of fiction: We Cast a Shadow, a novel that was a finalist for the PEN/Faulkner Award, the PEN/Open Book Award, and the Dayton Literary Peace Prize, and longlisted for the Center for Fiction First Novel Prize and International Dublin Literary Award.
And the book we will be obsessing over today is called The Ones Who Don't Say They Love You, a 2021 story collection that we absolutely adore. And so did The New York Times, by the way, which wrote, "Ruffin writes with the clipped motion of the best comic books and the unsparing tenderness of a poet."
The collection was also a finalist for the Ernest J. Gaines Award for Literary Excellence and longlisted for the Story Prize. A recipient of an Iowa Review Award in fiction, he has been published in the Virginia Quarterly Review, AGNI, The Kenyon Review, The Massachusetts Review and Unfathomable City: A New Orleans Atlas. A native of New Orleans, he is a graduate of the University of New Orleans creative writing workshop and a member of the Peauxdunque Writers Alliance.
Maurice, I am going to add a little addendum here as I welcome you – Twitter sage. I go to your account so much for inspiration when I'm struggling. You are a light to so many writers on Twitter. So, I want to thank you for that and ask you how you started doing that, what inspired you to just drop freely gems of wisdom every day?
Maurice Ruffin: Well, it's a great honor to be here. So, thank you so much for having me today. I love your work and I love you both so much. So, this is a great pleasure for me. Twitter is an interesting place because it's gone through changes. I've been on Twitter since about 2008, I think. And I just recognize that in the past 3, 4, 5 years, it had become extremely negative. And I saw myself falling into the patterns of saying the same kind of things that other popular people were saying.
And I was like, "I don't want to be that. What kind of light do you want to spread in the world?" And I just decided that as much as possible, I will keep my feed positive. And because many of my followers are writers like myself, I wanted to make a point to just say what I'm feeling about my own writing, whether I'm a little anxious, but more often I'm feeling very hopeful. I want to give that vibe to other people out there and let them know that they're not alone. And it's okay to have a good attitude about writing.
Dawnie Walton: Well, it is much appreciated on my end.
Deesha Philyaw: Absolutely. I always refer to you as the nicest person on Twitter, which I think says a lot.
Maurice Ruffin: Wow.
Deesha Philyaw: So, should we jump into…? We got lots of questions for you.
Dawnie Walton: We have so many questions. Oh my goodness.
Deesha Philyaw: Let's start in the beginning. The epigraph for the collection is a quote from Ellis Marsalis and it reads, "In New Orleans, culture doesn't come down from on high, it bubbles up from the street." And so my question is besides the setting, what makes the stories in your collection New Orleans stories?
Maurice Ruffin: You know, New Orleans is so unusual, it's hard to define it and people try to. If you watch a movie or if you watch a TV show about New Orleans, there are always these exaggerations that involve accents and Cajuns running around constantly, people throwing chicken feet at each other, and doing voodoo constantly. The real New Orleans is a lot different from that. First of all, it's a Southern city and yet most of us don't sound conventionally Southern. I sound like a variety of New York, New Jersey, and sometimes Jamaican, based on the mood.
But then there is also this feeling that relates to the culture of the second line, for example. When our loved ones die, often we will have a parade with the funeral and the parade is really joyous and inclusive, a brass band and people waving handkerchiefs in the air and laughing. And that's sort of like laughing in the face of literal death, which is a big part of the New Orleans attitude. On one hand, because of the history, there's a lot of nihilism built into it, this idea that New Orleans will one day flood, for example, and never become unflooded.
But in the face that you still have your loves and your family and the things you'd like to do, and we're going to do those things regardless of whether or not the city is flooding slowly or it's being gentrified to death or whatever those things are, we're going to stay in our own space and give you that. So, this book reflected that attitude of what I think we often call resilience and love of culture.
Dawnie Walton: One of the things that I love so much about this book is that, so many of the stories are anchored by very strong voices. And I often, as I was reading, found myself reading out loud, just naturally just starting to read stories. And I was curious as your stories went through an editing process, Deesha and I have laughed before about being in voice and phrases that, of course, we as Black folks know, but that a copy editor might flag.
I screamed to see you use the word "pure-D," which I also use. So, love that. And so I'm just wondering about what that process was like for you to hold on to those voices, to get into them, and to hold on to them throughout all those edits.
Maurice Ruffin: Sure. It's really important. I don't know how to represent my community without those voices, being brought forth as authentically as possible. Shoutout to Nicole Counts, my editor at One World Random House. Nicole is brilliant and Nicole understood the assignment. We never ever had any issues about, you know, what does this language mean? Is this like a Southern thing? What are you trying to do? If anything, Nicole's works are more conceptual and structural and help me figure out the shape of the collection, so that things fit together well. But in terms of us having this exchange of understanding, it was never an issue even one time.
Deesha Philyaw: That's wonderful.
Dawnie Walton: That's great, I'm glad to hear that. And it's also important to note, that Nicole is Black and that helps a lot…
Maurice Ruffin: Absolutely.
Dawnie Walton: And the fact that we trust our work with each other and to have an editor that is going to really help you maintain that voice throughout the whole process, I think is great. I had that experience as well, and I'm thankful for it.
Maurice Ruffin: Nicole was as close as I could get to having Toni Morrison as my editor.
Deesha Philyaw: Ooh, yes. That's wonderful.
Dawnie Walton: Wow. I love that.
Deesha Philyaw: So, let's keep talking about voice and voices and point of view. So, in the titular story, "The Ones Who Don't Say They Love You," as well as in the stories "Beg Borrow Steal," "Token," and "Catch What You Can," you use the second-person point of view. And it's a choice that for me, as a reader, compounded the often devastating emotional impact of those stories. How do you decide on a point of view for a given story?
Maurice Ruffin: I feel like the point of view chooses me. I've often said that for me, it's almost like a séance. I'll sit down to write a story. I'm not going to have any idea what's going to come out and I begin to hear the voice. And then the voice has a rhythm and cadence and has these concerns. And I think that the second person stories in particular like the title story, I use that point of view when the character is just extremely pressed, their anxiety can't get very much higher than it already is, and they're going to be in that space throughout.
And it's not for nothing that a lot of those characters are very young people, so like "Catch What You Can" and the title story, for example, but also in "Token," which is this person just trying to explain this great level of pain that they've experienced as a Black man in a very white space in their employment. And so the second person is almost saying, "I couldn't even look you in the eye right now. I'm just going to just tell you the stories while I'm looking off to the side and I can't even say it myself because it hurts so much." So, it's like, you do this, you do that, you feel this. And it carries across like that.
[Music Break]
Deesha Philyaw: So, let's go back before two books under your belt, from the very beginning: Do you remember the first story that you published? Where it was published? The year? What it was like getting that acceptance, that letter or email?
Maurice Ruffin: So, there was a young Maurice who was a teenager and I was invited by this magazine editor in New Orleans to write a short piece about young Black folks in high school, a fiction piece for her neighborhood magazine. I wrote that and that was published. I was still clueless. I didn't even know what publishing was. I'm like, "All right, I will write something for you, I will give it to you." And I've seen it, I'm like, Wow, you were definitely a kid back then.
But in more modern times, my first full-size story was published in the South Carolina Review in 2011. And that was the culmination of about seven years of keeping a spreadsheet of all my submissions and sending out stories the old-fashioned way—often by mail, not online because it wasn't even an option back then—and getting rejected for seven years straight. And I remember thinking, one day you're going to come home, it's going to be sitting there waiting for you, your first acceptance.
And something happened when I was away from home. I was out of town. So, when it got to my house, I didn't even see it for a week after it came in. But I remember that feeling of, maybe you can do this thing now, dude. You actually have some skills.
Dawnie Walton: So, I know y'all can't see me, but I'm just smiling ear to ear because I think stories like that are so inspirational to writers who do go back to the page day after day after day and have that dream of having that publication and it can happen, and look where you are now. It's just incredible. Can we talk a little bit about the journey specifically, the publication journey of this collection? So, you published the novel first, amazing, We Cast a Shadow. You had already had several of the stories in this collection written, is that right?
Maurice Ruffin: Yeah, several were already published. The story is funny because, on the morning after my book release for We Cast a Shadow— my first book—I was having lunch with my editor at the time, it was Victory Matsui, and my wife was there also, we were just hanging out at a Creole soul food spot in New Orleans. I go to the restroom and come outside and they have cut a deal behind my back to sell this collection. And I was like, "Wait, what happened? What are y'all talking about?"
It was so shocking because, on one hand, I had enough stories that I actually could have published the collection before that book. But I made a choice to publish the novel first. And then I was still like, am I ready to do the collection even then? And they just said, Yeah, you totally are. And so I sold the collection. The process was me going through and figuring out the shape and rules of the stories and then writing a few new stories.
And I really feel like for me, it was interesting because some of the stories are a bit older and the newer stories allowed me to try different techniques, different tactics, and different topics. And I was like, "Oh, you still got it, kid. You can actually write a story in 2020, and it's going to feel like you know what you're doing." So, it was a fun process.
Dawnie Walton: So, all three of us I would say are a little bit late bloomers to this writing thing. We had different lives. I mean, Deesha, you went to school for economics.
Deesha Philyaw: Allegedly, yes, unfortunately.
Dawnie Walton: I was working in media. Maurice, you were a lawyer. Can you talk a little bit about that journey that you took and that decision that you made to leave the law? You wrote about it very beautifully in a newsletter that, Deesha, this morning we were discussing before we hopped on this call, but we'd love for you to share a little snippet.
Maurice Ruffin: Sure, and thank you for that. It was fun writing that piece for Oldster. So, I just think that the vast majority of us are conscientious enough and intelligent enough to do different kinds of work. So, you can find yourself going after a degree in marketing or media or accounting or law, and you can do an okay job doing those things.
But I think for a certain part of the population, there is a little bell ringing in the back of your head. You don't even know what that bell really means, but that bell is your artistic bell. I feel like if you take a room full of people, let's say a football stadium full of people, 80,000 people in one big giant room, maybe a couple of dozen of people in that room are artists.
And many of us don't really understand what that means. We think that, well, I can have something else with my life and that's going to be good enough. Or I can make my art on the side, that's good enough. But in the same way, the highest use for a physical property, like you wouldn't turn a football stadium into an ice cream stand or an ice cream truck into a yoga studio. Some of us have our best use. And I figured out at a point that, you know what, the law was fine, but your best use is actually putting together these stories that reflect your community. Because they're not being told. If you don't tell them what's going to happen?
And so, for me, once I figured that out, it was no question, I was going to make the moves of co-founding writing groups, finding mentors and peers, doing readings with people together and going to school, taking independent workshops, trying to get published. And this idea of the hero's journey that Joseph Campbell had back in the day that we see in a lot of films from Star Wars to Black Panther or whatever like that.
And this is my personal hero's journey. I think that in the beginning of my story, I'm like this well-fed, well-paid, three-piece-suit-wearing, BMW-driving lawyer. And then they see at the beginning of the story after you know who that person is, they have to change immediately. And so I was like, this isn't my suit. This isn't my car. There are some other suits, some other cars out there on the road for me, I have to find them.
And so I spend the next decade basically making the transition from full-time lawyer to full-time writer/teacher of writing. And I have to say, if you have this inclination inside of you, it's going to pay off. I have never felt happier in my life than to have lived this dream. I'm not going anywhere, but having made it this far, I'm like, you know what, dude, you kind of did your work. And that is a very satisfying feeling to have two books on the shelf that people can buy anywhere in the world and know that they will enjoy the experience.
[Music Break]
Dawnie Walton: So, I am fascinated by flash fiction—super short, short stories, and there are a couple in there. One that I'm going to mention is "Election." And I felt an entire world pulsing in "Election," and yet it's probably a page or a page and a half in length. Maurice, how do you know when the story is done? How do you know that that story just needs that space?
Maurice Ruffin: I didn't plan it this way, but I noticed in looking back on it, that the flash pieces are mostly men and the full-sized pieces are mostly women and children and the longest piece is a woman. And I'm not sure why I was doing that, but I will say like "Election," for example, which you're right, it's barely a page long. That voice was so strong and so present to me. And I think the reason why and that's actually one of the oldest stories in the collection.
I'm a cisgender heterosexual male. And I remember thinking about, well, what would it be like to be a young woman in a situation where there's this power dynamic and there's this love and yet, you know it's going to be unreciprocated, unrequited? And as a guy that had not thought about it from a woman's point of view. And so once her voice was talking to me so directly, it had its own energy. It had its own force. And with a lot of the flash pieces, I will often ask that character, "Just go ahead and tell me briefly about the most important moment of your life." And that's what she's doing in that story.
Dawnie Walton: Do you ever find yourself writing beyond the point that is the ending and then pulling it back? Or do you, when you end the story, know it's finished?
Maurice Ruffin: Both. So, some of the flash stories actually wound up becoming full-size stories. Because I have my little personal formula that I use when I'm making flash stories like scaffolding. And so, "Catch What You Can" was a flash piece initially. And that was the story that would not be contained in just a couple of pages.
And then I've often written stories where…One of my mentors would always say, "Go to the next day…" This is Neal Walsh, who teaches at UNO. He says, "Go to the next day and see what happens." And so I write those next days and sometimes it works really well. So, "Before I Let Go," which is a novelette at the back of the book, that's 40 pages long because I kept asking, well, what happens the next day, and the next day?
But more often than not, I'll get to the end and I will go, this is exactly it. In the title story, you can't go past that kid, looking at the guy in the back of the police cruiser with the handcuffs on. There's nothing else to see from that point. You can extrapolate what he's going to do next. And that's what I want you to do. I want you to have your own thoughts about what this person's future is going to be like.
Deesha Philyaw: Now you mentioned that formula and that's something you've shared on Twitter before, right?
Maurice Ruffin: Yes, absolutely.
Deesha Philyaw: Can you share it again?
Maurice Ruffin: Of course. And I have to give credit to a writer named Paul Theroux, I think that's where I learned the flash form from the most. He had a story, it was called "22 Stories," but it was really 22 flash pieces back to back in one of the prize collections, the O. Henry Prize or the Best American prize collection. And so I read the stories and each story had a different main character, a different point of view, a different voice, a different topic, and yet, they all added up. And it was this rhythm that was in the stories. I couldn't figure it out. And I'm not even sure if he had broken it down into himself.
But what I noticed was, okay, there's a four-part structure and I have claimed it as my own ever since. The four-part structure is the Setup, is the first part, it's sort of a journalistic Who, What, Where, When, Why, and How. And then the second part is the Complication, you've been brought to the space, what's the bigger problem that is happening here? And then the third part is the Ironic Twist, which is what have you been setting up for the first half to 80% of the story, you turn it on its head.
So, if the character is trying to get water, maybe they wind up tossed to the ocean or they're trying to get water and next thing you know, they're in a desert. There's some sort of reversal of fortune. And then the end is just the Conclusion. That's the fourth part of it. And I found that it was a good way for me to get into my stories as quickly as possible, maintain the shape of the stories. And it just helps me to frame the structure of my stories.
Deesha Philyaw: I love that.
Dawnie Walton: I'm over here taking notes.
Deesha Philyaw: Here is the thing: I wrote it down when I saw that you shared it on Twitter, but then I couldn't remember where I saved it and what I saved it under. So, I'm glad you recapped.
Maurice Ruffin: Well, coincidentally, it's also the same structure of classic comic strips like Garfield and Charlie Brown. You can see the same structure, 1, 2, 3, and 4.
Deesha Philyaw: That makes me think of something else that Dawnie and I have talked about in terms of endings and this idea that endings in order for them to be literary or sophisticated, there has to be this ambiguity. Sometimes it's not; sometimes there's just satisfaction or some sort of clarity. Do you have a preference in terms of your endings?
Maurice Ruffin: Well, endings are one of the hardest things to do in fiction in particular, because you built up so much energy through the plot and you've spent all this time building the characters and people just have all these thoughts about them. And in most stories, the characters will survive past the last page. So, how do you stop a story with its structure of it? And I give credit to all my friends and mentors who helped me over the years.
When I was in grad school, my friend Che Yeun said that her mentors would always tell her, "Just find a powerful ending image." And I was like, what do you mean by that? It's like, what is the character looking at? What is the space that they're in at that moment? And for me, I've really followed that. In most of my stories, I will have an opening image where again, that sets up the who, what, where, when, and what, and how's it happening.
And then the ending is almost the reverse of that, a mirror image of it. So, that you feel like you've gone on a journey, it's subconscious, you really can't tell, but you can feel it inside of you. And so the vast majority of my stories will end with this character in a place looking at something. And you're looking through their eyes and going, "Oh, that's something, I can't believe that."
Deesha Philyaw: Mm-hmm.
Dawnie Walton: This leads very naturally into the story from this collection that you've already mentioned which is my favorite, "Catch What You Can." And the ending of that story with the character, the little professor called Gene, tasting lobster for the first time. Can you talk a little bit about the origins of that story and give the listeners a quick summary of what it's about?
Maurice Ruffin: Sure. So, first of all, that story is probably the most autobiographical story in the entire book. It's fictional, but basically, it's my mama and me in 1986, essentially, pretty much. The idea is this: in New Orleans people don't really remember this today, but for a long time, New Orleans was one of the top three cities in terms of population and economics. It was New York, Chicago, maybe Houston, and then New Orleans. And then things changed really quickly.
So, from the sixties to the eighties, the population was shrinking. Then we experienced the worst part of the oil bust in the 1980s. And so these characters in this story, this mother and this son are dealing with the aftermath of that. The mother has been having some problems. She was drinking too much. And at the beginning of the story, she asked the son, "Hey, look, I need you to go around our apartment and find all the half-drunken bottles of liquor and bring them to me. I'll give you $5 a piece so I can pour these bottles out and go find a job."
And the father/love interest is out of the picture now. And so it's really just these two people trying to form an understanding, an alliance. But of course, in New Orleans, in the eighties so much that's going on, there's the drug war, there's the oil bust. There are all these things that are affecting people that they can't really see.
So when they go downtown, you're seeing this devastated area where even people who are trying to find good work for themselves to pay for their families and their lives, it's just not even available. And the story would be really dire, except for the fact that this mother and son love each other so much and have so much respect for each other in the story.
Dawnie Walton: Yeah, that really shines through. It's a beautiful piece.
Maurice Ruffin: Thank you.
Deesha Philyaw: So Gene, in that story, Dawnie, you remember we were talking about it?
Dawnie Walton: Yes, Gene, there's a character named Gene that pops up in another story. Is that the same Gene, Maurice?
Maurice Ruffin: Yes and no. Yes and no. The short answer is that, when I made my thesis collection over a decade ago, my thesis director was like, "You should probably link these stories" — and we can talk more about it later on. But I have always been anti-linking stories, but there were a couple of stories where this character Gene is in multiple stories. But the thing is, now we have this idea in the MCU, Marvel movies and TV shows like Loki and all that, the multiverse. It's the same Gene, but from different worlds, different times. So, he's kind of the same dude, but kind of not.
Dawnie Walton: So, like the Peter Parker thing where it's like Peter Parker, Miles Morales…
Maurice Ruffin: Yes. Or even Tobey Maguire, Andrew Garfield, and Holland – the last kid.
Dawnie Walton: You mentioned you're anti-linking stories. I have to hear more about that. Why is that?
Maurice Ruffin: I am this natural iconoclast, you know. If everybody is swimming left, I will swim right, I just can't help it. And so I know that traditionally older collections, like from the sixties and seventies, like John Cheever and Joyce Carol Oates, often the stories were all separate and not linked. And then around the nineties or so, because of people like Junot Díaz in Drown and Aimee Bender to a certain extent, other writers. I won't say it's a fad, but it's connected to the standard style of, Well, this short story collection is really a linked universe.
Or like in a Goon Squad by Jennifer Egan, it's really just one novel. And I've really always been enamored by the idea of you're in one story in one place at one time, and then the next story you're somewhere totally different. And to me, that's very exciting and I really get happy about going to that next story with that next idea and seeing how different it is from the previous story.
Deesha Philyaw: I want to talk about my favorite story from the collection now, and I hope I'm saying her name right: Caesara, is that right?
Maurice Ruffin: Oh, "Caesara Pittman."
Deesha Philyaw: Yes, "Caesara Pittman, Or a Negress of God." That's my favorite in the collection and I'm really curious about the origins of it and then how you developed it from there.
Maurice Ruffin: This story was written in maybe late '19. And I hadn't read your work yet, but she reminds me the most of your fierce characters.
Deesha Philyaw: Oh, thanks.
Maurice Ruffin: And I think that's probably your influence on me long-term because I just really feel like… we all are who we are in the world. And so oftentimes the person's first book is in some sense their most autobiographical work.
My We Cast a Shadow features a Black male Southern lawyer, which is a lot of my demographics. And so a lot of that story has given over to certain elements of my own personality. He's more extreme than I am. But it's also in a lot of ways, a very masculine book. The second and fourth main characters in the book are his wife and his mother, but they're sort of off to the sidelines. In my collection, as I've said, maybe half of the characters are women or girls who are leading the stories alone.
And I really felt like for me, I wanted to show a different angle. If the male character is pushing things and causing more problems, I'm trying to show these women, not as perfect, not as these faultless beings, but that communal spirit where Caesara was very much going, "This isn't really just about me. I could try and take this guy down in court, and get my justice. But this guy is out there doing this to other people who look like me as well. And I got to put a stop to that myself."
So, in a sense, she's like a proto-superheroine, basically. She is just going out there and she's going to solve the problem by herself. And I was doing a lot of research for my piece in Four Hundred Souls. And that inspired me to go further back in time than my typical time period and write this 1866 story.
Deesha Philyaw: Dawnie was talking earlier about voice, it's her voice that grabs you from the very beginning. And even though it is set in 1866, she just sounded like every Black grandma that I ever knew. But again, you touch on as you said, law, history, feminism… she wouldn't use that word, but so much in about five pages and that was just really beautiful to read and just the spirit of that character just really shines through there. And I actually read the story, it's published somewhere other than your collection, is that right?
Maurice Ruffin: It was online, The Commuter.
Deesha Philyaw: Okay. That's right. Because I read it and then reading it when I got the collection, it just felt like revisiting an old friend. And even though I knew how it ended, that ending again was just very satisfying. And we do spoilers on this podcast. So, we can say that there's some vigilante justice and I love it. I'm here for it.
Dawnie Walton: Mm-hmm.
Maurice Ruffin: Yeah. In my mind, she's basically my great, great, great, great grandmother who I could never actually meet obviously or even knew what she sounded like. But in my mind, that is who she is.
Deesha Philyaw: Mm-hmm.
Dawnie Walton: I'm curious, Maurice, once you had a certain amount of stories ready for this collection, you felt they all belonged together. How did you go about ordering them? Do you have a philosophy about how stories in a collection should be ordered?
Maurice Ruffin: Well, first of all, that's one more thing that I have to give huge credit to Nicole Counts for because I really feel like by the time I got done with the collection, I was so worn out, I couldn't even really think straight and Nicole was like, "We got to pick the order of these stories." And I was like, "I can't, I'm not sure what to do about this." And so she's a huge part of the order of the stories.
That being said, generally speaking, I think about my favorite albums, whether it's Stevie Wonder's Songs in the Key of Life or Tribe Called Quest with Low End Theory or Midnight Marauders, or any of the other albums. Oftentimes the very first song is like the weirdest song. Like, it's the loudest, brashest, in-your-face. And it sets a tone of like, All right, if you're really a fan, you will be a part of the experience — you got to get through this first and then I'll give you some of the easier stuff.
Dawnie Walton: It's like a Rorschach test.
Maurice Ruffin: Absolutely. If you've got to go home, it's fine, you can stop reading right now. So, in this book, definitely that title story, in some ways is like the darkest, most aggressive of the stories because it gets very bleak, and if you can see what's going on and experience that and get past that, then things aren't quite as rough sledding after that.
Dawnie Walton: Deesha, I feel like "Eula" works in the same way.
Deesha Philyaw: I did. You couldn't see me, but I was nodding in recognition, the same thing. What is the most provocative, most explicit story that I have to let people know this is what we're doing? And let me know if you're rocking with me or not. And it functions to hook even maybe the reader that's reluctant, because if nothing else they're curious about, what's going to come next.
Dawnie Walton: And I have to say, I had, of course, read such glowing reviews of your book. I was so excited to read it, Maurice, and I thought the title was so interesting. And I was so excited for that moment when I understood the context of that title. And it was so satisfying in the title story when we get to that moment where it's revealed and I was just gutted for that character.
Deesha Philyaw: That is the exact word I would've used too. I was not ready. I was not ready for that at all. And I did, after I read that story, I had to put the book down before I picked it up again.
Maurice Ruffin: All right. Well, mission accomplished then.
Deesha Philyaw: Yeah.
Dawnie Walton: Was there a moment when you knew? Did you always have that title in mind or did the title come after you thought about it, after you'd finished this story and looked through the story for something to pull to the front?
Maurice Ruffin: The title came pretty soon, but I wasn't sure about the collection's title and I was struggling over it and going back through the entire collection and saying, "What's the hot bar here that I can use as the title?" And I couldn't find it to get at first. And then I came back to the first story, I'm like, "Wait a minute, that's it right there. Don't even overthink this. That's the perfect thing for this book." And so it became apparent pretty soon in the process of picking a title for the entire collection itself.
Dawnie Walton: And why do you think it is representative of the book as a whole, this title?
Maurice Ruffin: I think that what that character experiences in the title story is indicative of what a lot of New Orleans people, a lot of Black folks experience in the city. This is to say, we're definitely a tourist economy because of the French Quarter. People come from all over the world constantly. And many of us work in the industry, whether it's in hotels or restaurants or out in the streets wearing costumes.
And you have to be a sort of fake self. You have to present a false version of yourself to succeed in those spaces. And every once in a while you meet somebody who sees the real you and there is a connection there. And the book is very much about that, about trying to survive in a city that doesn't have a lot of money, a lot of resources, and yet people can find one another and that makes their lives liveable.
Deesha Philyaw: Now of the characters, I think about the character in the title story and one of many characters that I just wanted to wrap my arms around. And so this might be a bit like asking you a favorite child, but do you have a favorite character from among the stories in the collection?
Maurice Ruffin: It's impossible. It really is impossible. The best I can do is tell you that on any given day, there's a different character I think that way about. "Before I Let Go" was important to me, because that is a story about a middle-aged lesbian Black woman in New Orleans. And in my experience, I'd never seen that character as a lead in a New Orleans story. Not even in film or in television, unless you count, maybe like… I'm not even sure in novels.
So, my idea was, All right, who is this person in that story "Before I Let Go"? Well, she is like my aunt, she's like the ladies I've known throughout my entire life who are just living their lives and they don't get to be in the spotlight at all. And so giving her that spotlight for me was very cathartic. I felt like I was showing my people in a way that is honest and respectful and you just don't see them otherwise. I love that, but I will say, all the kids, I just want to hug them too — the title kid, the "Catch What You Can" kid.
They're going through so much and they need as much love as possible, especially considering that the vast majority of them have Katrina in their background, which is this really intense incident that is where they started their life.
Dawnie Walton: Maurice, just zooming out to think about short fiction in general, where does a story start for you?
Maurice Ruffin: Yeah. Before I knew anything, I used to try and write high-concept, like a Hollywood screenwriter. It's like, "Well, what if this person who is living Halal right now decides to work in a pork factory?" And it's like, "No, that's not going to be a good idea." And so I finally grew out of it and I got to the point where it was really like I said earlier, I would just sit down and start writing, having no idea what the first line would be.
And often what I would do is I will now maybe write a page or a paragraph somewhere in between there. And in that process, the voice emerges. And I'll go back and start to rewrite that first page and then the voice becomes clear. And so that's your "Caesara Pittman," for example, that's the title character, for example. And I'm just saying, what's really bothering you right now? What's on your mind? What's this really important thing that is a part of your life? And it is going to tell me. And so the story always starts with the person's concern, their voice, their tone, and some sort of mixture of those things together is what makes the story lift off for me.
[Music Break]
Deesha Philyaw: And let's talk about something now that a lot of writers don't enjoy. I actually enjoy it. And Dawnie, tell me if you enjoy it. Revision, the R-word. I like it better than drafting.
Dawnie Walton: I love it.
Deesha Philyaw: But Maurice, I'm curious, how do you feel about revision? And can you take us through your process?
Maurice Ruffin: Yeah, I think that for any author, revision is really where you prove yourself. Anybody can bang out a draft and it is just handed off to the publisher to get it published as it is more or less, after getting rid of the typos. But the real deep work, the understanding of who these people are in this story and what is really trying to be said by them in these stories. That to me is the revision. That to me is like this big chunk of marble, it looks pretty good by itself. You start chipping away at it until it becomes more refined, you can see the facial features and the shape of the cheeks and that kind of thing. So, I adore revision and oftentimes I have to go through a process of 2, 3, 4, or 5 drafts.
The title story is weird. I was in this space where I wrote it really fast, went back, and gave one more pass over. And that was basically it for that title story. But then the reverse of that was "Rhinoceros," which is the story that I wrote during the pandemic, during the protests. I actually started it in late 2019 and I just kept stalling out on it. And I had to get to the point of, you know, what, this story needs a complete and total overhaul. I changed the lead character, the tone, the POV, and the basic locations, and kept the first paragraph. And the story grew from that seed into what it is in the book itself. So, revision is so important.
Deesha Philyaw: Why do you think some writers resist revision?
Maurice Ruffin: I think it's because for a lot of people it feels like work. I think what they're missing is that… not being facetious really, but I am being a little facetious. Writing should almost never feel like work. If you're in a place where it is a struggle because of either writer's block or you're fearing the page, or you don't want to get back to it again, you're not having a good time.
And for me, writing is often, Okay, how can I have more fun writing this? And a lot of my decisions come from that. Oh, this will be a lot more fun in the second person than in the first person. Oh no, wait, it will be more fun if the funny sidekick in high school, if that was the main character versus the guy I'm using right here already. And so once I had that light bulb in my head, that's like, oh, that'd be a lot of fun. Revision is no longer work. It's like, oh, I can't wait to try that out and see how it looks on the page.
Dawnie Walton: That's a whole new way of thinking about it, to look for the fun. And I try to tell my students, if you are not having fun writing it, then what's the point? You have to be almost delighting yourself constantly in order to come back to that page or that computer screen day after day after day.
Deesha Philyaw: And I think it has to do with some of the elitism around writing. Just like we were talking about endings, this mindset that for something to be high art or literary, the ending has to be a certain way. And I think it's the same thing, this idea of the tortured writer, which I think in addition to some gatekeeping, it's also a way to justify people procrastinating. I'm just going to throw that out there.
Maurice Ruffin: Yes.
Deesha Philyaw: I'm just going to choose violence today and just say it.
Dawnie Walton: Well, while we're on the note of revision, here's a provocative question. Is there a published story that you would go back and revise in some way if you could?
Maurice Ruffin: You know what? I thought long and hard about this. I actually don't think so. I really don't think so. Look, there are some stories that I wrote, I remember when I was trying to develop some new stories and I found some of my grad school stories that I hadn't either finished or they just felt incomplete and I tried to rewrite them and it felt terrible. It was like trying to have a conversation with my four-year-old self where it's like, okay, we're so far apart. Then there are stories in the collection where I recognized that I was a younger writer. So, "The Pie Man" is probably the oldest story in the collection.
I started that over a decade ago. And when I read it, I go, "Oh, you were trying to do this thing. You did it like 85%, but today you do it 100%." Well, that's fine because I really have respect for that younger version of myself who was trying hard to write that story. I really had high standards for myself, which is to say that I would never send a story to a magazine that I wasn't proud of at that moment. And I've maintained that level of like respect for those older stories even today. So, I'm not like, oh yeah, man, just try and approach the same idea.
Because in some sense, because I am who I am, my themes will always come back to me and I'll be writing the same story the rest of my life anyway. So, start a new version with a new title, with new characters, and see where it goes.
Deesha Philyaw: Thinking about this collection and then, We Cast a Shadow. What's the best sentence you think you've ever written?
Maurice Ruffin: That's a great question. I'm a very positive person, I like to hype my own stuff. I've told this story in the past about how my greatest work ever is this scene that got cut out of We Cast a Shadow, which is when the lead character and his wife, before they have married are on a vacation to Europe, in a train going through the snow-covered Alps. And it's a big love scene where they actually consummate their love and that leads to the birth of Nigel, the son who appears in the main part of the book. As I went back and re-read it for the first time in years, it was like, This is okay, it's all right. I'm not so sure about that.
So, then on Sunday night, I did an event, one of my few live events of the entire pandemic, I was supporting Joshua Nguyen, who is a poet, and Tiana Nobile, who is also a poet. And I read from the book, the story "Token" – it's one of my flash pieces. I read four flash pieces. And I hadn't realized that "Token," which was having an effect on the audience, they were into it. I'm like, okay, this is working pretty well. It's just one sentence. Which is me taking the Jamaica Kincaid conceit from "Girl" and making this one extended idea. So, that's my strongest sentence, which is "Token."
Deesha Philyaw: I didn't realize that that was just one sentence. Now I'm looking.
Maurice Ruffin: Semicolons, commas, no period.
Dawnie Walton: Wow.
Deesha Philyaw: And I love "Girl." Oh my gosh.
[Music Break]
Dawnie Walton: Let's do a little fill-in-the-blank. So, okay, the hardest part of writing a short story is…?
Maurice Ruffin: And I say this only partly facetiously, the hardest part of a story is starting a story because you never know how it's going to end up. If you do well, it will get published and will be a part of your life for the rest of your life. So, deciding to start a story is like deciding to have a kid, basically. You're going to make this thing. You have no idea what it's going to be and probably a blessing, maybe not so much. And so there's a bit of anxiety of this idea of like, okay, it's the day that you want to do this? You want to sit down and spend like four hours cranking a draft out. No, I'm not ready for it today.
And so, just getting over my thoughts of, can I still do it? Am I good enough? Will this be a decent story? Can people like this? Can it get published? Getting past that and sitting down and starting, once I get started, it's fine.
Deesha Philyaw: And what about this? My favorite part of writing a short story is…?
Maurice Ruffin: There's no word for it. But I will say it's the third quarter of a basketball or football game. And this is as if the first quarter is like the first draft. And the second quarter is this revision process, like, "Oh, that didn't make any sense. You should move that over here," etc. And so we're in that third quarter, I'm sitting there, about two-thirds through it thinking, "Oh, I get this now, I know what this story is really about. In fact now that I know what the story is really about, I can go back to the first page and change this. I can change that character's name to that. I can put this character in this scene-setting over here." And it's this veteran editor feel of, I understand it now and how to make it a better story. That feeling to me is why I write.
Dawnie Walton: I love that moment of unlocking it when it's like, you struggle with it and it's like, oh, you hit on that thing that just lets the rest of the story just come out of you. It's a great feeling.
Maurice Ruffin: The unlocking, I like that.
Dawnie Walton: Yeah. Let's talk about, every day you inspire writers on Twitter. Who are the writers who have inspired you or put out collections that you particularly love?
Maurice Ruffin: Two of the first ones that I just fell in love with were definitely ZZ Packer's book.
Deesha Philyaw: Mm-hmm. Drinking Coffee Elsewhere.
Dawnie Walton: Yes. Drinking Coffee Elsewhere.
Maurice Ruffin: Exactly. Drinking Coffee Elsewhere. I'm pretty sure I have never read a book by a Black person that was short stories until that point. 
Deesha Philyaw: Same.
Maurice Ruffin: In college, I had read a lot of other pieces and a piece here, Kincaid here, Alice Walker over there, etc. But this entire collection by this young Black woman and I was amazed by it. And I tell you, when I first met her in person in the coffee shop, she didn't know who I was. And I was just sitting there thinking, "Is that really ZZ Packer who just walked into this coffee shop in New Orleans?" So, this just blew me away.
There's Danielle Evans's first collection, Before You Suffocate Your Own Fool Self. I was like, how did she do this? It's so interesting. And then also my first general love, when I began to write my own stories, was reading a lot of collections that were anthologies. So, I loved the Best American Short Stories. I love the O. Henry Prize stories. But my favorite overall is the New Stories from the South, 2008, which ZZ Packer edited.
And it's actually a defunct publication now, but it was always a very diverse publication, the diversity of styles. It was the first time I read a book and went, these stories are also different and that makes me so happy to think I can do the same thing myself in my own work
Deesha Philyaw: And when you say that, you're making me think about Nafissa Thompson-Spires's collection, because that was how I reacted to her, which is, Oh, you can do that. And it's like, we give each other permission to experiment and try new things.
Maurice Ruffin: I have to say with Nafissa, I would not have gotten my book over the finish line without her. Because I read her book on a plane going to AWP in 2020, where I met her. And I read the book on the plane. I saw her for the first time in person, I'm like, "Yo, girlfriend, you did this thing." She was on fire, Jamel Brinkley was on fire, Friday Black, that's another book I'm like, "Yo, people are trying all these amazing concepts," Nana, all these books were just like, okay, we are back. We are doing some things and we are legion now. It's not just like one or two of us. There's a whole bunch of us doing stuff.
Deesha Philyaw: That's right. So, we asked a similar question earlier, a short story that you might want to rewrite. Is there a short story by another writer that you wish you had written?
Maurice Ruffin: "Brownies," by ZZ Packer.
Deesha Philyaw: Yes.
Maurice Ruffin: That story is so constructed and tightly wound and heartbreaking. And just the philosophical conceits about race and mental acuity and the way she takes them. That story had me spinning for days after. I'm like, "What did I just read? How is this possible?" And she rightly became famous on the back of that story and that collection, because she was being so amazingly astute in what she put together.
[Music Break]
Dawnie Walton: I would love to know how you feel this collection challenged you as a writer, you grow. Or what about it surprised you in the process of writing or publishing it?
Maurice Ruffin: Well, again, I think that with short stories, there is a different approach to it. Generally speaking, people are more receptive to novels, because in a novel you get a single character. Usually, you're following this person throughout the course of their life. You get to know them. And so I think that's one of the reasons why if you ask a person, to name five novel main characters that they just love so much. They will name, like, Gatsby or somebody from one of Toni Morrison's books. That's fine. With short stories, it's this thing where it's more diffuse and short stories are for people who just love literature. They just want to get to this space and experience this particular writer's tone and feel.
And for me, I didn't know initially what my book was going to be about as it were. When I put the collection together, I didn't know if there was a theme, if they were connected, or what was the overall emotional impact I wanted to have. And coming out of the experience, I looked back and I went, oh, I know what's happening here. So, this is definitely your most New Orleans project. The stories are all set within the city limits. I literally tossed aside stories that left the city for any reason and put those on the back burner.
This was a story in which you're trying to represent the people who are heard the least. So, in this collection, you don't get a lot of 6-foot-5 Black men running around doing stuff. There are a lot of people who are in different ways, either marginalized or on the margins of society. They're homeless or they're struggling to make their ends meet, etc. And so for me, it was very cathartic figuring out what kind of a writer I want to be in this space, in this collective space.
And I'm just very proud of it. Very proud of the fact that again, I have characters you just don't see anywhere else. And their stories are being told in a way I think that's both respectful, honest, and enlightening to anybody who wants to read their stories.
Deesha Philyaw: I'm thinking about something that August Wilson said. He had this writing ritual where he would walk around his desk so many times before he sat down. Clearly, it worked for him. Do you have rituals like that? And can you describe for us how your writing space is set up?
Maurice Ruffin: Sure, it's two things in combination. When I was a very new writer, I had all these superstitions, like I had to have my special pen and a certain chair I sit in when I go out to the coffee shop. And I recognized that those superstitions were kind of holding me back. I was always too nervous to write without those things perfectly in place. And so, I developed very early on this feeling of, Maurice, you can write anywhere at any time.
So, while I have spaces, I'm right down in my space in LSU, I have my home in New Orleans as well, but really my thing has always been, Have no spaces. Just show up somewhere. You can be in any city, you can be at a friend's place and just get it going. That being said, my favorite space of all the time—which I think Deesha, you will experience at some point—is the Grisham House over in Oxford, Mississippi. And I have to say, I'm very jaded about being too attached to a space. I like to live off the land, so to speak, but there was a comfort in that space and there are pictures of it online, I'm pretty sure. Well, maybe not.
But there's this feeling of being in a space that is yours, it's very rural, so it's very quiet and just having control over the entire space for months at a time, was just so cathartic and so freeing for me, where by the end of my tenure there, I was just writing very efficiently, the two things came together. So, I love that. And I guess the only requirement is this: A comfortable chair, a good table, and WiFi, because I'm one of the few writers who use the internet while I'm writing constantly.
Deesha Philyaw: I am too.
Dawnie Walton: Me too.
Deesha Philyaw: Some people are like, we turn it off because it's a distraction. I'm like, I have to go and Google, what was that obscure Public Enemy lyric that now my character wants to say, and I have to look it up right now, the essential things. And I was reading your Twitter feed when you were the Grisham Fellow. And then when I knew that I was going to follow in your footsteps, I was like, I hope that writing mojo and that space mojo rubs off on me and my next work. So, I have just been watching you with so much admiration. So, thank you.
Maurice Ruffin: I left it there for you. It's under the kitchen cabinet.
Deesha Philyaw: Okay.
Dawnie Walton: And I have to say, I'm also watching you for inspiration because you have been keeping us posted on your progress as you write new stuff. So, what is next in the writing life of Maurice Carlos Ruffin? What are you working on? Anything you want to share about it or how it's going or how you're feeling about it, we'd love to hear it.
Maurice Ruffin: Oh, yeah, sure. So, my third book is going to be my second novel. Again, I mentioned the idea of my first book being this demographically autobiographical. And I've been moving away from that more and more and more in each book that I write. So, this next book has three major parts and three major time periods. And I got the idea for this by doing research of my woman ancestors. And so, the first part is set in the 1840s to the 1860s. And this is the person who would be like my great, great, great, great grandmother. The second part is from the 1940s to the 1960s, my grandmother's generation. And then the last part is set in the future, like We Cast a Shadow was set in the future.
And it's very much me trying to understand, frankly as a man, like my mother, grandmother, and other relatives, sort of communal leanings. Men are often like this sort of toxic masculine idea of being a lone wolf. And a lot of struggles that men have was being in that kind of, leave me alone, do my own thing, make my own choices. And I see my mother and I see my other relatives, and they work together well. And so, I'm trying to pay homage to that in the work. In the same way in the Song of Solomon, Pilate and other people in the background, they're doing these things that are making their community better and it's in all the Toni Morrison's books, the women are just amazing characters.
And so I'm taking the guy sort of… they're almost no guys who have more than a paragraph of screen time in this new book so far. That's how I want to do it on purpose. I want to make sure that these women in New Orleans throughout history, are front and center in their stories. I'm trying to tell this epic family tale that has the themes of freedom and community and self-determination and living your best life—for lack of a better way of putting it.
Dawnie Walton: Wow, I will say I am so excited about that. I know Deesha you are too.
Deesha Philyaw: Yes.
Dawnie Walton: And Maurice, we want to thank you for chatting with us today. I learned so much. I have my notes. I can't wait to get back to the page myself. Thank you so much for joining.
Maurice Ruffin: Y'all are the best. Thank you so much.
[Music Break]
Dawnie Walton: So, I feel incredible after that conversation, I feel inspired, I feel blessed.
Deesha Philyaw: Absolutely. And he really is the nicest person on Twitter and just so generous. His generosity always comes through, and I'm glad he recapped that formula because I remember taking those notes and he gives practical advice. So, it's like it's soul advice, but then it's also practical advice that we can actually use in our writing practices. I love that.
Dawnie Walton: And it's so rare to get that kind of practical advice about craft, to help you break down your own stories and how to structure them. So, I'm really appreciative of that. Thank you so much for listening. Remember, you can support the show, including author interviews, and original audio stories, by going to www.ursastory.com/join.
Deesha Philyaw: Maurice will be like, on the tweets, "Get back to work. Get back to work." And I'm sitting there tweeting and wasting time and not working. And then there's this tweet, "Sit at your desk and do your work."