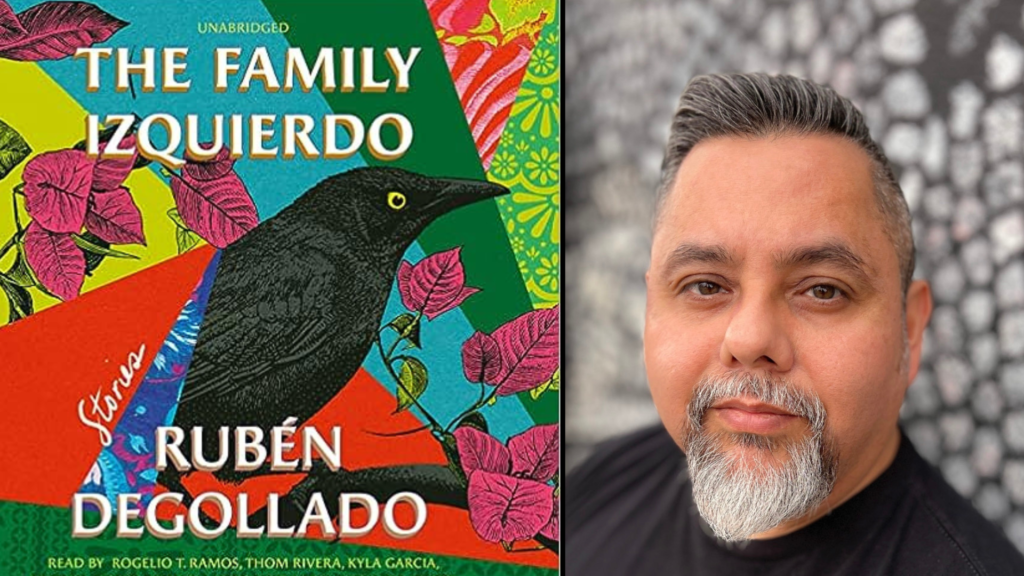 Hello friends,
This week on Ursa Short Fiction we're thrilled to feature "The Seven Songs," by Rubén Degollado, from his novel, The Family Izquierdo.
The story is performed by Carolina Hoyos and is excerpted from The Family Izquierdo audiobook, produced by Blackstone Publishing. Our thanks to them for sharing this story with Ursa listeners.
In "The Seven Songs," Dina, the daughter of Izquierdo family patriarch Octavio, tells her daughters about her encounter with a neighbor, Contreras, who put a curse on the Izquierdo family.
Dina notes the strength, not just of God, but of all the women in the family, in myths, and in music that guide and encourage her to face the enemy. The Family Izquierdo follows what binds the generations together in the family — the love as well as the curse — and in "The Seven Songs" Dina seeks out Contreras to free her family and herself from the family curse.
"No, I did not go to church, mis hijas. I had to go into the enemy's camp. The place of evil and idolatry. Of greed and charlatans. That den of vipers where I knew I would find the brujo contreras. We went to the flea market."
Listen to the story, then come back next week for Deesha and Dawnie's conversation with Rubén Degollado.
Reading List
About the Author
Rubén Degollado's work has recently appeared in Literary Hub, CRAFT, The Common, and elsewhere. His novel Throw won the Texas Institute of Letters Best Young Adult book for 2020. His debut literary novel The Family Izquierdo is a long list title for the PEN/Faulkner Award and the Mark Twain American Voice in Literature Award. Rubén lives and writes along the southern border, in the Río Grande Valley of Texas.
More from Deesha Philyaw and Dawnie Walton:
***
Episode editor: Kelly Araja
Associate producer: Marina Leigh
Audio excerpted courtesy Blackstone Publishing from THE FAMILY IZQUIERDO by Rubén Degollado, excerpt read by Carolina Hoyos.
Help Us Fund Future Seasons and Shows
Ursa Short Fiction is supported by our listeners. Share this podcast with a friend—or become a Member to help fund production: